racing089
Location:

ME

Join Date:

11/25/2015

Posts:

182

Member Details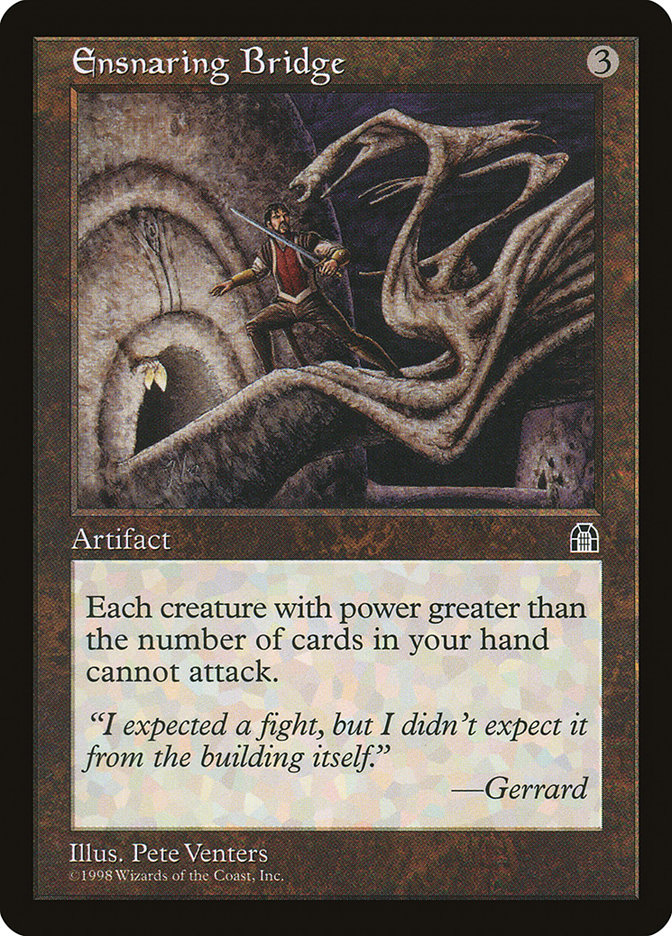 Tezzeret Agent of Bolas control is UBx Prison/Combo/Toolbox deck that uses
Tezzeret Agent of Bolas
as the glue for such a unique assortment of archetypes all in one deck.
The deck first burst onto the scene at
GP Kobe in 2014 with Shota Yassoka
piloting the deck to a top 16 finish.
Since 2014 the deck has evolved greatly leveraging increased metagame statistics to better understand which toolbox cards the deck needs to be playing and adapting to the increasing speed of the Modern format. A multitude of new cards have been released or unbanned changing the direction of the deck from the previous style of UBx tapout control to Prison/Combo.
Ben Scarsella 1st place IN
Thomas Bauer 1st place DE
Why should I want to play Tezzeret control?
This deck has it all. It features elements of control, prison, combo and now toolbox strategies and is highly adaptable to your metagame.
It is a combo deck.
Thopter Foundry
and
Sword of the Meek
combo together making every 1 mana into a 1/1 blue flying thopter token and 1 life. Once banned due to the unwinnable board state it presents by comboing for only a single turn this combo has the ability to grind an opponent into oblivion.
It is a prison deck.
Ensnaring Bridge
,
Pithing Needle
,
Chalice of the Void
and
Crucible of Worlds
. Lock out combat and begin to dismantle your opponent's strategy piece by piece. Attack their lands, their spells and even their activated abilities.
It is a toolbox strategy
Use the power of
Whir on Invention
to get any silver bullet you need, augmented by
Tezzeret, Agent of Bolas
's ability to dig 5 deep for artifacts. Use
Whir of Invention
to find missing combo pieces or additional lock pieces all at instant speed.
It is a control deck.
Liliana of the Veil
,
Fatal Push
,
Collective Brutality
and
Damnation
are a proven winning combination in Modern. This deck gets to abuse these cards more than most any other deck in the format can. Try clogging the board with indestructible 5/5
Darksteel Citadel
s and casting a
Damnation
. Or discarding
Sword of the Meek
by escalating it for
Collective Brutality
.
This deck will reward you for understanding the meta and knowing your opponents deck inside and out. Like many Prison and Toolbox strategies, finding the correct balance of disrupting your opponent and forwarding your victory condition can be a difficult task. However once you learn the deck it is powerful enough to play with the best decks in the format.
Why would I play an artifact deck that isn't affinity when everyone in the room has artifact hate?
Although hate cards can slow us down but the deck has enough flexibility to go either through or around the hate cards.
Stony Silence
and
Shatterstorm
don't stop indestructible 5/5
Darksteel Citadel
s.
Tezzeret, Agent of Bolas
's ultimate doesn't care about
Stony Silence
and neither does
Ensnaring Bridge
. As long as you are prepared to know which hate cards to play around you can adapt your strategy to beat them.
Whir of Invention
allows us to save our most valuable lock pieces be tutoring
Welding Jar
or
Spellskite
on to the battlefield in response to point removal like
Abrupt Decay
,
Maelstrom Pulse
and
Ancient Grudge
.
Gameplan
When you are playing a competitive game of magic there are exactly 2 ways to play. You are either playing to win the game or you are playing to not lose the game. This deck is very much the latter. You spend most of the early turns setting up a lock or otherwise creating a board state which is either impossible or very difficult for you opponent to kill you through. Then you can swiftly end the game with a
Tezzeret, Agent of Bolas
ultimate, 5/5 creatures with haste or Thopter/Sword combo. Tezzeret's ability to rapidly switch from a defensive card advantage engine to a threat gives this deck a way to finish the game before the opponent can find outs.
Card Choices
Tezzeret Agent of Bolas
- Let's be honest, we are handicapping ourselves by playing mostly artifacts. This guy is the reason we do it. In a deck engineered to play him, Tezzeret Agent of Bolas is the most powerful planeswalker ever printed. A quick read of his abilities makes it clear that this guy is powerful. Play 3-4.
Liliana of the Veil
- As if this queen needs any explanation. Many of the lists that are more control oriented play 2-3 copies of her for the reason that GBx decks do. She is powerful and creates synergies. For us that means
Sword of the Meek
and
Ensnaring Bridge
. LotV usually comes at the cost of some utility lands due to her double black casting cost and it is difficult to run her alongside a
Crucible of Worlds
/
Ghost Quarter
package or alongside
Whir of Invention
. If you opt to play neither of these options, strongly consider playing LotV.
Ashiok the Nightmare Weaver
– Sometimes you just need another way to win the game. Often played as an alternate win condition out of the sideboard or as an additional threat that functions behind an
Ensnaring Bridge
.
Fatal Push
- I think black mages have waited long enough for their premium 1 mana removal. Since it's printing it has become a staple of every black deck in Modern. If you are in the market for removal play this card over any of the other 2 mana options.
Go For the Throat
/
Doom Blade
/
Victim of Night
/
Smother
/
Dismember
- These were the options before fatal push meaning that they are now second best if you need more than 4 removal spells.
Collective Brutality
- This card is capable of much more than it reads. Sure, discarding your Sword of the Meek for value is great. But what about emptying your hand for a follow up Ensnaring Bridge while taking the opponents answer at the same time. It also acts as removal and discard that doesn't get hit by your Chalice of the Void. Sometimes the drain for 2 is enough to put your opponent into lethal range with a Tezzeret ultimate. An All-Star in most Tezzeret builds. Play 2-3.
Thoughtseize
/
Inquisition of Kozelik
- Hand disruption can be powerful when followed by an
Ensnaring Bridge
. However often times you are casting hand disruption without a threat to follow it up. If you have no follow up threat you have now put yourself behind instead of ahead. Post-board discard gains value by dealing with cards we otherwise may not have been able to like
Shatterstorm
and
Stony Silence
. Most lists not playing Whir of Invention still opt to play some number of these cards alongside
Ensnaring Bridge
and LotV. Play either 0 or 3-6.
Damnation
- Sometimes creatures just need to be dead. Many lists play very few to zero creatures to support
Ensnaring Bridge
, making
Damnation
1 sided. It is a great catch up card but 4 mana is a lot.
Damnation
usually makes the 75 but it's quantity and position are determined by the meta. Play 1-2.
Whir of Invention
- This has become the focal point of a lot of builds. Although comparable to
Chord of Calling
there are some key differences. The improvise mechanic does not allow us to tap blue artifacts to pay for it's cost. This is hardly an issue since the only blue artifact we have interest in playing is
Thopter Foundry
. Getting Whir of Invention to X=2 or higher can be daunting but thankfully
Pentad Prism
makes it possible. A reasonable hand of 3 lands a
Pentad Prism
and a
Whir of Invention
allows you to tutor for X=3 on turn 3. More on Pentad Prism later but let's talk about some of the tricks made possible by Whir of Invention:
Opponent casts a spell with activated abilities - Whir for X=1 and put
Pithing Needle
into play naming the card they just cast effectively countering it. Works great against opposing Planeswalkers,
Scavenging Ooze
,
Qasali Pridemage
,
Engineered Explosives
,
Oblivion Stone
,
Arcbound Ravager
etc.
Opponent would like to short cut to combat - Once you have entered the Begin Combat Step but before entering Declare Attackers Whir for X=3 and put
Ensnaring Bridge
into play. Without instant speed interaction they are likely to be unable to attack.
Opponent casts an artifact removal spell - Whir for either X=0 or X=2 to get
Welding Jar
or
Spellskite
to effectively counter the removal spell.
Opponent attempts to interact with their graveyard - Whir for X=1 to get
Nihil Spellbomb
/
Relic of Progentius
/
Grafdigger's Cage
to stop what they are doing.
Valakut player points 18 damage at your face - Whir for X=2 to get
Spellskite
and redirect all triggers to
Spellskite
. Paying only 12 life and keeping you alive in many situations. You can also Whir for X=4 and get
Witchbane Orb
effectively countering all triggers.
Short 1 mana for Tezzeret - Eot you can Whir for X=0 to get
Mox Opal
or
Darksteel Citadel
to be able to cast your spell next turn.
Opponent has 2
Verdant Catacombs
in play and passes the turn - Whir for X=1. Chances are likely they just let it resolve. Once they do that you put Pithing Needle into play naming Verdant Catacombs. They don't get to respond to the
Pithing Needle
and you have set them back 2 lands.
Opponent casts any cascade card, cascade trigger - Whir for X=0 and put a
Chalice of the Void
into play countering whatever suspend card they wish to cascade into.
I am sure there are many more tricks but this is a short list of the most unique and profitable interactions
Whir of Invention
can create for you.
Thirst for Knowledge
- This card was restricted in Vintage until 2015. Possibly the most powerful instant speed card advantage effect in the game. However this card has fallen out of favor in most decks because 3 mana and card advantage don't work well with an Ensnaring Bridge strategy.
Serum Visions
-
Serum Visions
is the definition of what makes a card exceedingly medium. We don't play it is mostly because it eats up our non-artifact slots which are dedicated to more powerful and unique effects. It also reduces velocity when you need to deploy a quick
Ensnaring Bridge
.
Mishra's bauble
is seeing some play in this slot because it fills a similar function without the downside.
Ensnaring Bridge
- This is our crutch. This is how we keep up in the fast paced world that is Modern. Many games revolve around a turn 3
Ensnaring Bridge
. It defends our life total and our Planeswalkers. It allows us to play an unconventional game of magic by almost entirely locking out the combat step and gaining virtual card advantage by countering most creatures our opponent plays. Playing the correct amount of
Ensnaring Bridges
can be tricky. Play 4 and risk having too many 3+ drops stuck in your hand when you cast the first one. Play too few and you don't find it when you need it. For this reason, lists playing
Whir of Invention
play 2-3 and tutor/defend them with
Whir of Invention
. All other lists generally play 3.
Thopter Foundry
/
Sword of the Meek
- Free wins are free. Sometimes we can just end the game curving into the combo turns 2-3 and grinding our opponent out over the next few turns. Other times we can set up a lock and then win within a couple turns of assembling the combo.
Whir of Invention
allows you to play 2 of each and have reasonable success at finding the combo. When not playing
Whir of Invention
the combo should be split 4/3 since
Sword of the Meek
can be triggered from the graveyard and it doesn't matter if the
Sword of the Meek
gets destroyed. Often times, once the combo is assembled your hand is irrelevant and you spend every turn gaining life and creating thopters.
You will often times find yourself boarding the combo out or some number of the pieces in the face of hate. The combo is weak to graveyard hate and
Stony Silence
. If you expect either try to have an alternate win condition in games 2-3.
Mox Opal
- What can be said about this card that hasn't already been said. It is a Mox. We are not affinity throwing a hand full of artifacts on the table turn 1 so 4 copies is dangerous. However 1-2 are free and incredibly powerful. Play a minimum of 1 and a maximum of 2. Typically you play 2 if you have
Darksteel Citadel
s and 1 if you don't.
Pentad Prism
-
Pentad Prism
creates for some crazy powerful
Whir of Invention
improvise plays. The turn you play a Pentad Prism it is even +1 for
Whir of Invention
, the next turn it is +3. It also allows for T3 Tezzeret and accelerates your mana development long enough to empty your hand for
Ensnaring Bridge
.
Pentad Prism
also creates mana of any color making a sideboard splash easier and
Engineered Explosives
more powerful. When playing
Whir of Invention
play 3-4. Otherwise play 0 since
Dimir Signet
and
Talisman of Dominance
are better alternatives in the long game.
Pithing Needle
- A great catch all for cards that may be difficult to answer. Many lists play 1 in the main to bail them out of otherwise precarious situations. Playing a second copy in sideboard could be correct in metas where you expect to see cards you otherwise can't beat. Such as Planeswalkers and
Oblivion Stone
.
Relic of Progenitus
/
Nihil Spellbomb
- Great ways to develop a quick artifact count and destroy enemy graveyards without sacrificing consistency. Play at least 1 in the main and play as many as 3 after sideboard if you expect graveyard strategies to be prevalent.
Relic of Progenitus
is typically better unless you need to play it and blow it up with exactly 1 mana. You can usually play around exiling your own
Sword of the Meek
easy enough.
Engineered Explosives
- EE can be dangerous because it could destroy a fair number of our own permanents. However its raw power and flexibility warrants some slots. 1 in the main to help against aggro and another in the sideboard seems to be the best configuration leading to the least feel bad scenarios. It gives us interaction in matches where we normally wouldn't have it such as Lantern, 8rack, Bogles etc.
Trading Post
- Costs 4 mana to do nothing in many matches, but the matches where it is good it can take over a game. In slower games you can cycle expired
Pentad Prism
s, additional
Mox Opal
s,
Sword of the Meek
or redundant lock pieces for new cards. It is common to have Ensnaring Bridge in play and have Whir of Invention be the last card in your hand. When you have neither of the combo pieces you still need a way to generate value with your [card]Whir of Invention[card] and [card]Trading Post[card] is the best option under the cost of 4.
Executioner's Capsule
- An artifact
Doom Blade
. It seems some play in
Whir of Invention
lists as a way to remove creatures that can fight us in ways other than through combat. Also kills and
EEmrakul, the Aeons Torn
.
Crucible of Worlds
-
Crucible of Worlds
paired with
Ghost Quarter
is slow but can be an effective win condition against greedy or grindy opponents. Previously didn't see play due to inconsistency but
Whir of Invention
allows you to play only 1
Crucible of Worlds
and find it in the games where you need it most. Play 0-1.
Welding Jar
- A great way to defend your artifacts from point removal.
Whir of Invention
lists should be playing at least 1. A zero mana way to enable improvise and defend our most vital artifacts in something we are happy to play.
Chalice of the Void
- Playing 4
Chalice of the Void
is a tempting offer in a format as fast and efficient as Modern but the deck needs other 1 mana cards for its game plan to function effectively. The best way to play chalice of the void is with 2-3 copies in a meta where you expect it to be powerful. Play 0 or 2-3.
Mishra's Bauble
- Despite checking all the boxes for being an effective card in a
Tezzeret, Agent of Bolas
deck the card sees very little play. It could be that nobody has figured it out yet or that having to wait half a turn for a new card while top decking is a real downside.
Most lists play as few creatures as possible to blank all the removal the opponents are likely to be playing. Creatures are usually a plan B sideboard or have a spell like effect attached to them.
Glint-Nest Crane
- Lantern control has adapted this card as well as many Tezzeret players. The 1/3 flying body can be surprisingly relevant against 2 power creatures, Affinity's flying army and Infect. However when it is not relevant it still digs 4 deep for artifacts.
Glint-Nest Crane
gets significantly better when playing
Darksteel Citadel
s to help hit lands. The lists that are more combo centered usually play 4 and others play between 0-3. Spending 2 mana to find an artifact can be dangerous when trying to empty your hand for an Ensnaring Bridge however you can choose to find nothing.
Spellskite
- Spellskite would be the easiest auto include in this deck if he wasn't a magnet for creature removal. Despite that many players play 1-2. Post board your opponent will take out a lot of spot removal and
Spellskite
gets much better.
Herald of Anguish
- A good hand can play this monster on turn 3. Any
Pentad Prism
hand with 4 lands can play him on turn 4. Post board after an opponent has taken out some removal
Herald of Anguish
can destroy them by gutting their hand and picking of their creatures while smashing for 5 in the air. 1-2 is likely correct in the sideboard against grindy opponents.
Darkslick Shores
- Play 4 copies. Fastlands are very powerful and in our deck it provides all the colors we need painlessly on the turns we need the colors most.
Polluted Delta
- Play 4 copies. Fetches are the best lands in the game for a reason. Wildly flexible and help us play around
Blood Moon
and trigger revolt.
Any blue fetch land - Sometimes you need more than 4 ways to fetch
Island
and
Watery Grave
.
Watery Grave
- Play as many as expect to want to play against an opponent who is not disrupting your mana base. For most Tezzeret builds that number is 3 to cast Whir of Invention.
Island
/
Swamp
- Play as few as possible without getting punished for it. Normally this is 2 Island and 1 Swamp. In
Whir of Invention
lists an argument can be made for the 3rd Island but it is likely better as a utility land.
Creeping Tar Pit
- 3 power unblockable on a land is very powerful for chipping at opponents or assassinating Planeswalkers. However running such few creatures leaves it very susceptible to being removed.
Academy Ruins
- Extremely powerful at combating grindy decks and punishes decks that want to dismantle your deck 1 piece at a time. Gets better the slower the meta gets and gets better when you play fewer graveyard hate pieces.
Inventor's Fair
- The last land that could tutor cards in Modern got banned.
Eye of Ugin
. Clearly that is not why it got banned but that didn't help its case either. Gaining incremental life and turning a flooded mane base into an artifact of your choice is very powerful. Despite its legendary status some lists try to squeeze in 2 copies.
Darksteel Citadel
- Before
Whir of Invention
was printed Tezzeret decks had more flexibility to play more colorless lands. Not playing 4 copies of
Darksteel Citadel
was objectively wrong. It allows Tezzeret to dig for lands, frees up npn-artifact spell slots because you now have 4 artifacts in your mana base. Plus Indestructible 5/5 lands can beat just about everything everything but a
Path to Exile
or a
Dismember
. However it has to compete for a limited number of spots now and you can't jam 4 without sacrificing power elsewhere.
Ghost Quarter
-
Ghost Quarter
has a powerful interaction alongside
Crucible of Worlds
and many lists are opting to play a package of 3
Ghost Quarter
and 1
Crucible of Worlds
with
Whir of Invention
. Ghost Quarter can also be bounced off a
Darksteel Citadel
to turn it into a basic land.
Ghost Quarter
attempts to destroy the land and then search for a basic. The land doesn't get destroyed because of the indestructible clause but
Ghost Quarter
still completes the remainder of the text.
Glimmervoid
/
Spire of Industry
- Although both powerful cards we don't have consistent turn 1 artifacts and we also don't need any more than 2 colors making
Spire of Industry
worse than
Underground River
. However in a 3+ color deck both could be used to great effect alongside
Mox Opal
for 12 rainbow sources of mana.
Negate
- It protects you from most mass artifact destruction as well as countering cards you otherwise can't beat like
Oblivion Stone
,
Karn Liberated
,
Scapeshift
,
Ad Nauseum
etc. Also has applications against decks like Burn and Lantern. The points of life loss from
Countersquall
don't matter much compared to being able to easily cast the card of a colorless land.
Flaying Tendrils
- The exile clause is more relevant against decks like Melira Company than the scry 1 from
Drown in Sorrow
. Being able to mop up tokens, affinity creatures,
Kitchen Finks
,
Voice of Resurgence
and even
Geist of Saint Traft
have earned this card 1-2 spots. This is the go to anti-affinity tech alongside
Damnation
since
Hurkyl's Recall
is to weak.
Damnation
- Outstanding magic card, but it exists in our deck mostly to help out against midrange decks and Bant Eldrazi.
Damnation
can take a game we were losing and very quickly put us ahead. 1-2 copies in the 75
Collective Brutality
- There should be a minimum of 3 copies of this card in your 75. So if there is only 1 in your main deck the other 2 need to be in the sideboard. It is too valuable against such a wide variety of decks not to want 1 in your opening hand.
Grafdigger's Cage
- When you want to beat Dredge/Collected Company/Reanimator decks and mean it. Unlike
Relic of Progenitus
and
Nihil Spellbomb
this is a permanent answer.
Ghost Quarter
- Whether it be the 4th Ghost Quarter for your
Crucible of Worlds
lock or the 1st copy to beat up Affinty and stall Scapeshift there should always be exactly 1 copy in your sideboard. An extra land can be great in some matches and the disruption is invaluable in others.
Chalice of the Void
- There are some games where playing a Chalice of the Void is just lights out for your opponent. That is when you bring it in. You could play only 1 or as many as 3. 2 seems to be the best sideboard configuration for finding it without diluting your own effective 1 drops.
Herald of Anguish
- More details on this guy in the creatures section, but it can be unstoppable against grindy decks post board if they took out too much of their removal or the removal they have can't interact with him. 1-3 copies can be played if your sideboard strategy involves leaving in
Pentad Prism
.
Witchbane Orb
- Hexproof is great when there is a lot of Scapeshift or Burn in your meta although it is a bit slow. 1 copy is often right in the sideboard because it can be a complete blow out.
Padeem, Consul of Innovation
- Again, excellent for dismantling midrange decks or anything that wants to go long. It protects all of your artifacts while drawing you an additional card every turn. If it was an artifact it would steal the
Trading Post
slot.
Surgical Extraction
- Surgical Extraction gets better as you play more hand disruption but is serviceable on its own with
Ghost Quarter
lock to further deny your opponent. Play 1-2 copies.
Spellskite
- Mentioned in the creatures section. Whenever
Spellskite
doesn't make the main deck 1 or 2 copies are preferred in the sideboard to help fight through the point removal.
Echoing Truth
- It is not great but it deals with pesky permanents for a turn. Works great to bounce a
Stony Silence
and combo out. Usually the turn and a half with the combo is enough to win. Also makes dead hand disruption live in the late game by bouncing a permanent and then stripping it from their hand.
Sideboard Splashes:

Green
Abrupt Decay
- General permanent destruction for hard to handle artifacts and enchantments.
Maelstrom Pulse
- Used for similar reasons as
Abrupt Decay
.
Red
Crumble to Dust
- Tron and Valakut decks can be difficult to beat and this is a big step in the right direction if you expect a lot of either.
Ghirapur Aether Grid
- Great for picking apart decks with lots of X/1's, Planeswalkers or an alternate win condition against
Stony Silence
.
Deck Construction Rules and Guidelines
How many artifacts is too many? How many artifacts are too few? How often Does Tezzeret miss on his +1? If he hits was it even worth it? What about Glint-Nest Crane?
This is the most difficult aspect of building this deck. Too many artifacts and you are playing cards that are likely worse than your average card because you are selecting cards from a smaller population. Too few artifacts and
Tezzeret, Agent of Bolas
doesn't function well and neither does
Whir of Invention
or
Glint-Nest Crane
. Even if you have enough artifacts, you want to make sure they have an impact on the game. Let's use the graph of Glint-Nest Cranes probability of hitting an artifact as our baseline:
Tezzeret, Agent of Bolas
would have a similar graph for his +1 ability except with a sharper initial curve due to digging 1 card deeper. The hard part is picking a percentage number that you deem to be a fair amount of variance. In magic, I would say an 80% success rate is reasonable but feel free to choose any number you want and shoot for that number. Generally speaking 17 is the absolute lowest threshold and these variants can't afford to play
Mox Opal
. 22 is likely the maximum playing 1-2
Mox Opal
. Since
Mox Opal
is exceptionally powerful and integral to the mana base the best solution is 19-20 artifacts +2 Mox Opal. As you add more artifacts to the deck your chances of success begin increasing less and the artifacts you are playing get progressively worse.
In short:
Play 21-22 artifacts including 1-2 Mox Opal.
Feel free to play more or less, but choose wisely and don't vary too far.
Manabase Construction
Lands are a much more important part of building Tezzeret, Agent of Bolas control than most decks. Normally it is as easy as fetches/shocks/basics and 1-3 utility lands. Artifacts get the best utility lands in Modern as well as some of the best mana fixing. Therefore when constructing a mana base you need to account for a few variables other decks do not. For example:
With 90% confidence:
Casting Whir of Invention on 3 requires ~ 22 Sources that generate blue
Pentad Prism on 2 requires ~ 13 blue and 13 black and 20 total that generate colors
Liliana of the Veil on 3 requires ~ 19 black
Consistent 4 mana on 4 requires ~ 24 sources
Trying to accomplish all of this while playing a bunch of utility lands is unreasonable. This is why 3 color splashes are uncommon and unreliable despite excellent fixing from
Mox Opal
and
Pentad Prism
.
4 -
Darkslick Shores
4 -
Polluted Delta
3 -
Watery Grave
2 - Blue Fetches
2 - Island
1 - Swamp
This combination meets all the requirements for casting our critical spells except for
Pentad Prism
on turn 2. We could add more colored lands but the lands get progressively worse in an effort to make only
Pentad Prism
more reliable.
2 -
Mox Opal
4 - Pentad Prism
These cards get us to the 22 sources required to cast
Whir of Invention
but we still only have 16 lands in our deck. The last 5-6 slots can be filled out with utility lands of your choosing.
Core Cards
4 -
Tezzeret Agent of Bolas
4 -
Whir of Invention
2 -
Thopter Foundry
Minimum
1 -
Sword of the Meek
Minimum
2 -
Ensnaring Bridge
Minimum
1 -
Pithing Needle
2 -
Mox Opal
Minimum
Decklists
Want your deck list here? So don't we! Message racing089 with your list and results and we will post it here if you placed well at a larger event.
Shinohara Gen with many great Tezzeret finishes.

Additional Resources
Previous Primer
Gerry Thompson Video Series Featuring UB Tezzeret 4-7-17