ThatStoryTeller120
Location:

New Jersey

Join Date:

7/16/2008

Posts:

2,319

Member Details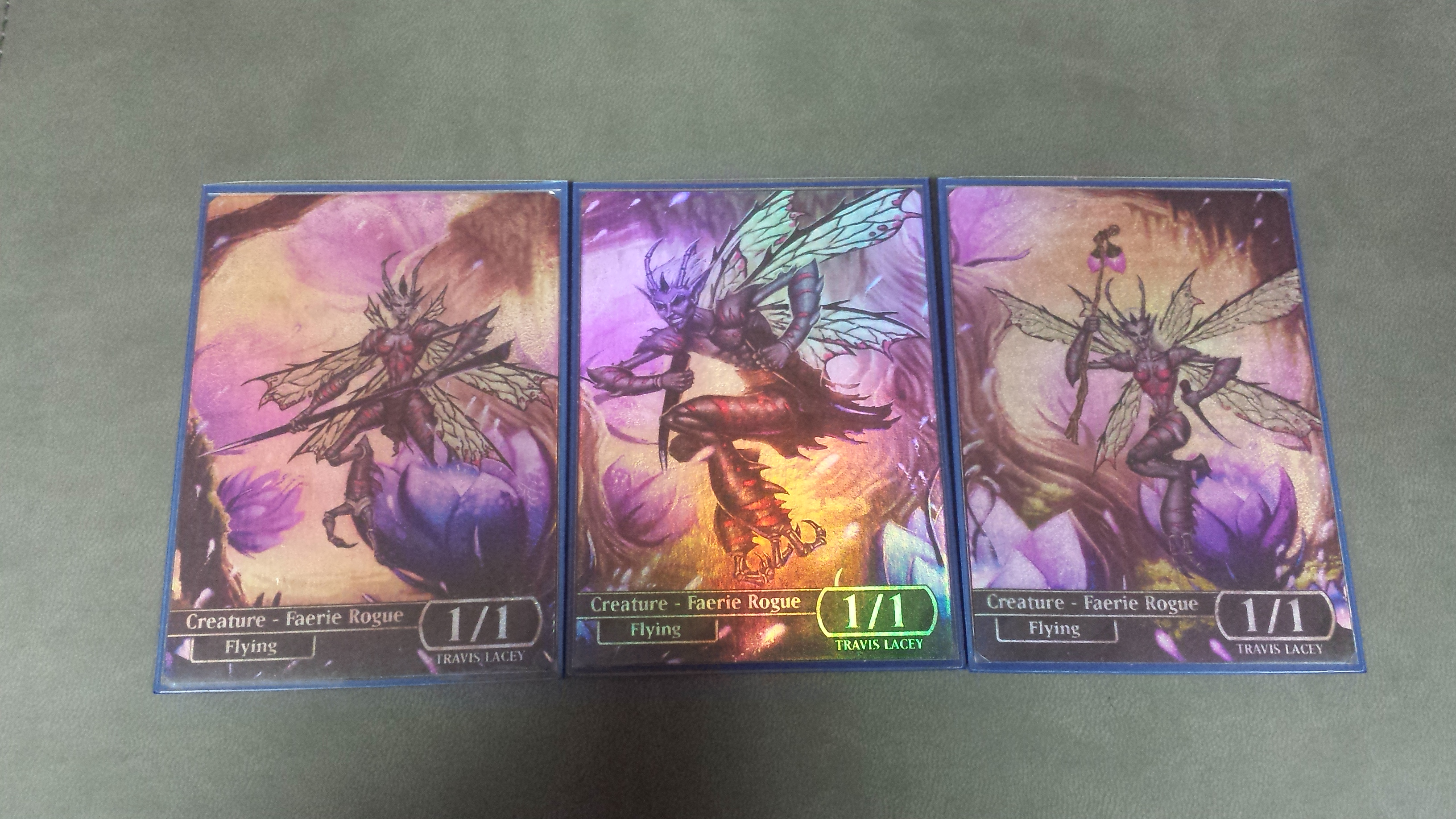 Art Courtesy of Travis Lacey at Ravenseyestudios.com
Primer written by Ucenna of The Faeries Discord Team
--Faeries--
Faeries is a mid-range/control/tempo deck. No two decks are the same, and it's very easy for a good Faeries player to transition quickly into different decks/playstyles. This post isn't focused on any single core deck: Faeries changes as the meta changes. It's well placed to beat whatever deck you want, but it's your job to make the right calls. Choosing the right cards to overwhelm your opponent with.
Instead, this post focuses on describing the Faeries meta toolkit— indicating what is good against what, and what to do and not do with certain cards.
Why Faeries?
Faeries is a nonlinear highly interactive deck. Every victory is earned, and every loss deserved. This is the deck you want, if you like being rewarded for playing smart. Faeries is a highly skill centered deck with a low margin for error. Furthermore; it's highly adaptable and often changes its playstyle mid-game. If you're looking for an easy win, this isn't the deck for you.
Where to Start?
Faeries adapts to the meta, and changes greatly from FNM to FNM, Pro Tour to Pro Tour. No one list is perfect. You won't find a best decklist here, just options and suggestions to help you craft your own. The following is a good starting point to get you going. You can start with that, and tweak it depending on what feels right. Don't be afraid to deviate from the tried and true, just because something works for one person doesn't mean it will work for another. Experiment! If you try something that you think is powerful, feel free to post here. We're always happy when others help the deck live and grow.
Standard U/B Shell:
12~16 Creatures
4 Bitterblossom
4+ Counterspells
2+ Cryptic Command
5~ Creature Removal
3~6 Discard Spells
0-4 Ancestral Vision
24-26 Lands
--The Cards--
-Faerie Kit-
These cards are the reason you're playing faeries. Cards like
Spellstutter Sprite
,
Mistbind Clique
, and
Scion of Oona
are your main source of synergy; everything else just sweetens the deal.
Niche Faeries
These cards aren't common across the majority of decks. Some of them are more often used in variation decks such as Ninjas or Rogues, others are just niche in their application or aren't of much use in the current meta. These cards aren't necessarily bad, and they are worth giving a thought to when constructing your final 75.
-Control Kit-
Your control kit is key for slowing down your opponent, and keeping you ahead in the game. Kill and counterspells are pretty straight forward. Hand disruption helps protect your next turn's play, slows down your opponent, and removes threats that can't be dealt with through kill spells or counterspells.
Niche Control
-Big Beaters-
-Planeswalkers-
-Tempo Kit-
-Sideboard Tech-
--The Mana Base--
Faeries is a fairly color intensive deck. You want to be able to cast cards like
Thoughtseize
,
Inquisition of Kozilek
,
Ancestral Vision
,
Disfigure
, and
Spell Snare
on turn 1. On turn 3 you'd like to have a
Mutavault
out to power up a
Spellstutter Sprite
, while still having enough blue sources to cast
Cryptic Command
on turn 4. Cards like
Agony Warp
and
Victim of the Night
can further complicate things. This deck wants to be running 4 Mutavaults, so be careful how many other colorless sources you add. 20 Coloured sources is usually the minimum, which means that lands 25 and 26 are the flex slots. Some players play 19 coloured sources, but 20 is optimal.
-Core Lands-
-Flex Lands-
--Faerie Builds and Variations--
--Sideboard Options and the Faeries Meta Kit--
--Matchups & Siding--
Against many decks; it's quite clear what direction to follow, in others it's less certain. Keep experimenting, just because one method works for one deck doesn't mean that it'll work for another.
Skill Intensive!
For some matchups, I added the words "Skill Intensive". This means that a disproportional amount of the winrate comes in by having experience in the matchup, rather than anything else. Faeries is a true Aggro/Control deck and pivoting from the Control role to the Aggro role is critical in skill intensive matchups. RG Tron is normally relatively straightforward, stop the Tron and aggro them. In other matchups, like Burn, every single decision counts heavily to your win %. The Faerie deck presents its pilot with multiple, often complex, decisions each turn. If you pick the correct one every time, your win rate will improve drastically.
We have a base plan for each archetype that changes from matchup to matchup. They are as follows:
Representative Decklists
Brandon Dempsey 09-Apr-2017 Top4 in SCG Classic Worcester [350 Players]
Anthony Huynh Top4 in SCG — 06-Mar-2017
Nishikawa Seigo. 1st place 13-Apr-2017
A note regarding
Death's shadow
, the new metagame superstar that some people seem to want to add to the deck. This deck does not have the density of life loss nor the stability in its low life total to reliably or even impactfully resolve death's shadow, and cards that force lifeloss like
street wraith
become liabilities. The best bet would be to maximize on thoughtsiezes and even then that would not be a solid plan for the faeries engine. I know people will try it, but the way an aggro control deck like faeries operates does not match the tempo needed to power out a death's shadow.
This primer is a community project, feel free to jump on the Google Docs and comment and suggest edits.
A huge thanks all those in the Faerie community who helped to contribute to the primer. We couldn't have done it without you!
If you'd like to contribute to this primer, visit the draft over at
https://docs.google.com/document/d/1c-vtrOdk_iTXCHphD-VSveZOFv59f1P8ey0jJ-BAZJE/edit
Decks I have in my bag of tricks- Needless to say, someone who wants to play will probably have a deck
/ Faeries
Storm
Affinity
Elves
control