So it's Academy Ruins for enchantments, thoughts?

Not fun to see in your opening hand, but maybe it has a place in the SB?
We can't afford to play any colorless lands so this would have to go in a spell slot and it doesn't really seem worth it. We're quite limited on mana so very difficult to return something and play it in the same turn even. Just way too slow and don't see many cases where this would win you a game where a powerful aura like Unflinching Courage wouldn't do better.
Also new removal spell: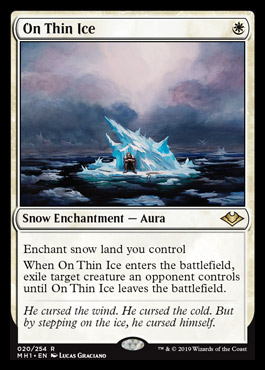 Could potentially be interesting if you want more removal spells than 4 Path to Exile. Only working if you fetch a basic land is a bit awkward though, so who knows. Also not great against Ghost Quarter or other basic land destruction.