There's not really a door. This is all taking place in rooms 14 and 15 on the map. The red-ish indicator on the map shows where the boss is at the start of the fight.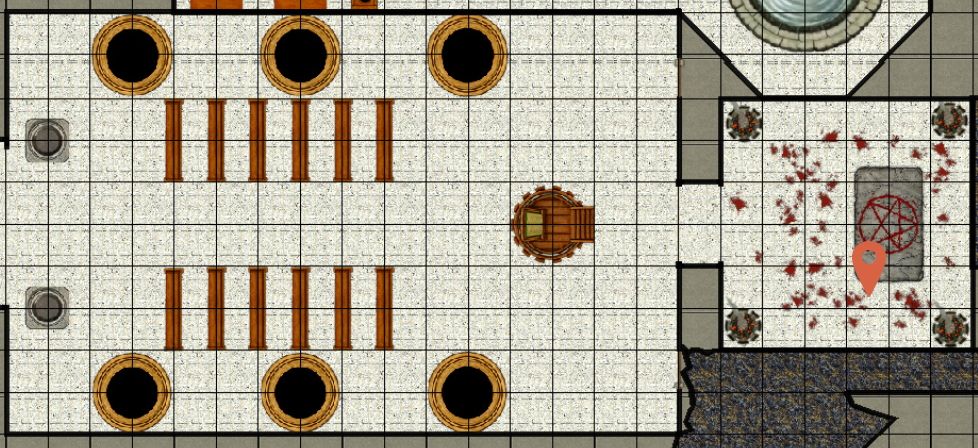 You enter the grand sanctuary of the temple. The room is littered with the bodies of dead cultists. Some died fighting you, but most died in agony, victims of the psychic assault you all endured. Despite being located under a mountain, the room is surprisingly warm. The fourteen corpses, combined with the heat in the room, create a terrible miasma of death. Behind the lecturn, in the altar space, you hear continued chanting. As you approach the altar (room 15), the heat grows more intense.
In the altar, the sacred heart of the temple, you are greeted with a stunning blasphemy. The altar itself has been destroyed. In the stone of the floor, an elaborate series of runes and circles, approximately 10 feet across, have been carved. At equal points around the circle, five cultists stand. As you approach the ceremony, the chanting reaches a crescendo, and each cultist pours a vial of silvery liquid into the runes carved into the floor. Reed and Emeryn recognize this substance--the blood of a celestial being. A corpse lies in the center of the carvings. With alabaster skin, long dark hair, and two feathered wings now broken and bent at unnatural angles, it can only be one of Arawan's angels. The angel is curled protectively around a smaller figure: the corpse a human child, no more than four or five years old.
As the angel's blood fills the runes, a swirling storm of silver liquid begins to rage within the circle, seemingly contained by whatever binding spell is woven into the ritual. The cultists being to spasm, a white mist being drawn from their eyes and mouths into the storm, then collapse, dead. With an indescribable sound, the very fabric of reality is torn asunder. Heat boils out from the eye of the storm.
A figure steps out from behind the altar, surveying his work. He is human, though taller than any human you've seen before. His skin is pale, his grey eyes sunken. His long black hair is tied back with a silver chain. He wears a black robe trimmed in silver filigree, and leans on a tall ebony staff. He wears two pendants around his neck--one, the skull and spider of Arawan's death priests; the other, a broken sword wrapped in chains. None of you recognize this symbol.
"I take it from your presence the gods aren't as blind as I'd hoped," he says. "Ah, well. Life gives you lemons, and all that."
Toriac, Cult Leader[dice=1]20+1[/dice]

Lucial[dice=1]20+4[/dice]Reed[dice=1]20+3[/dice]Korvat[dice=1]20+2[/dice]Paravrax[dice=1]20+0[/dice]Strathalmere[dice=1]20+2[/dice]Emeryn[dice=1]20+0[/dice]Dieknuh[dice=1]20-1[/dice]